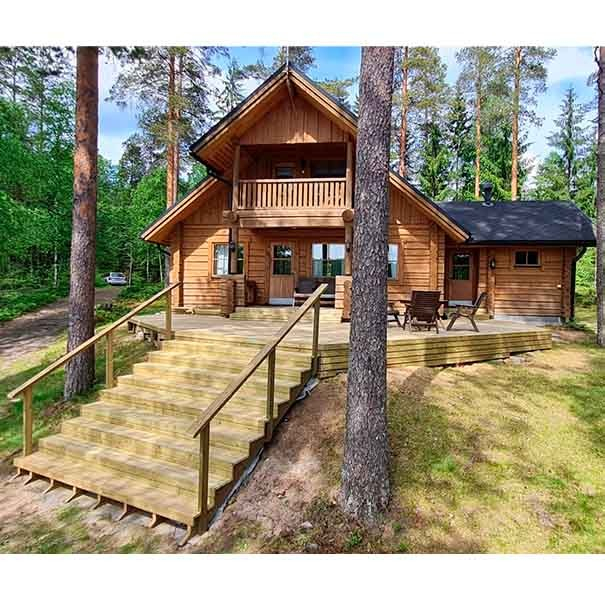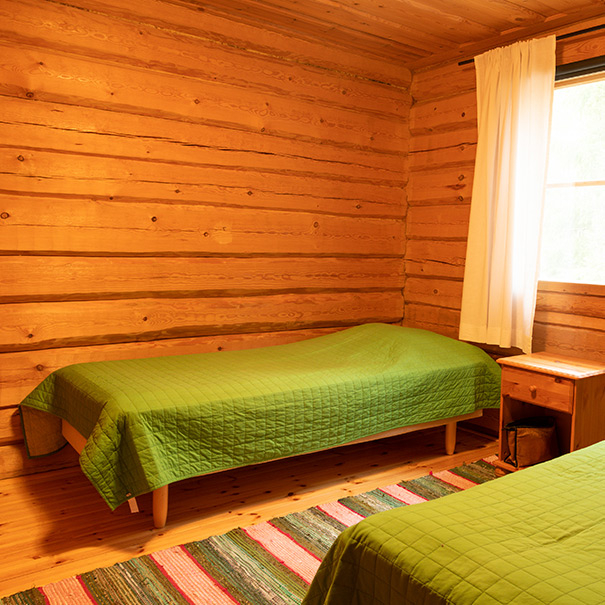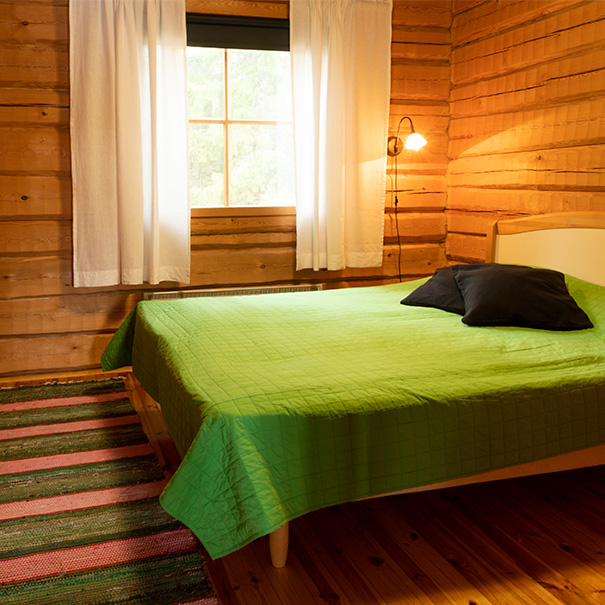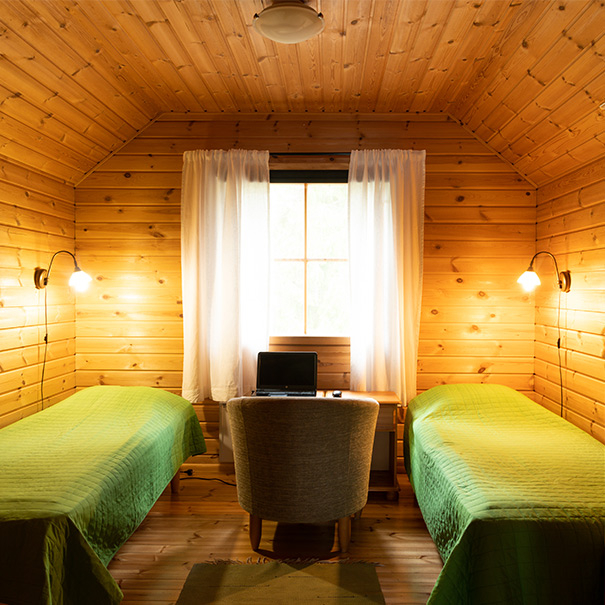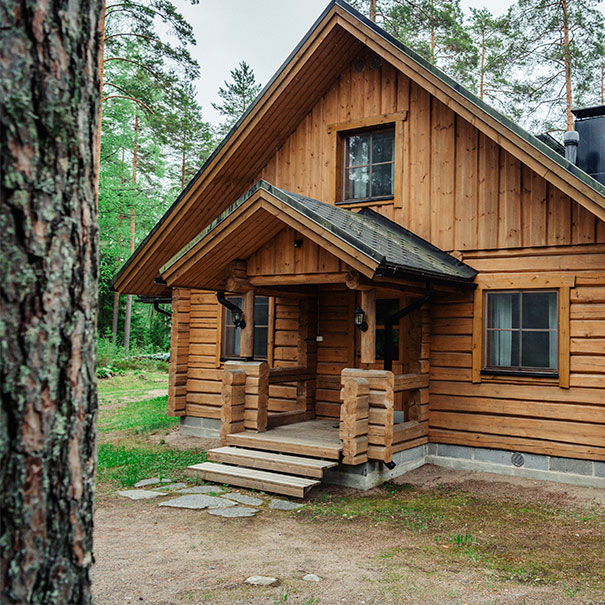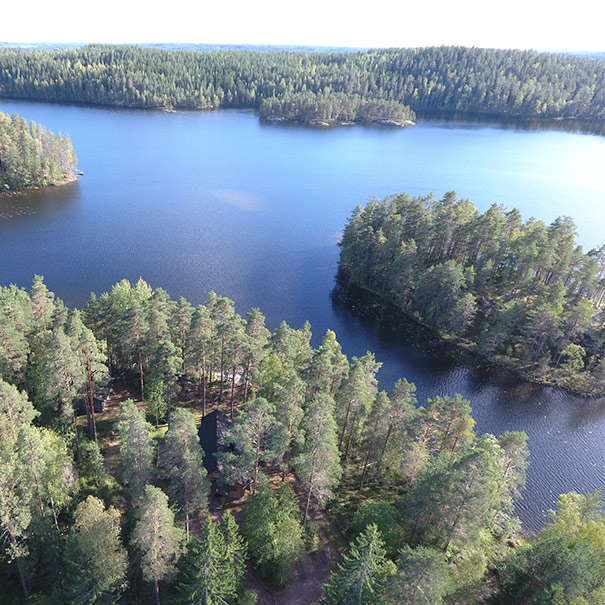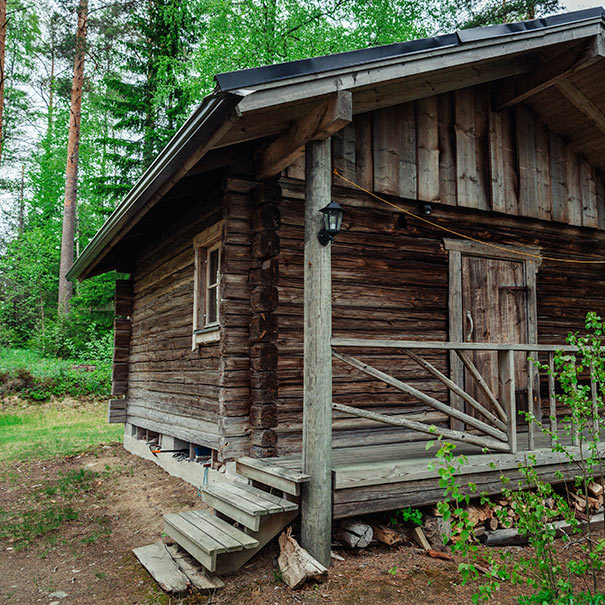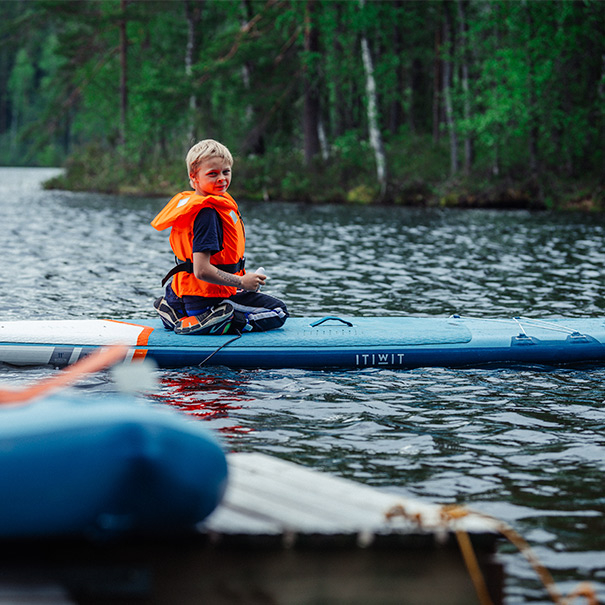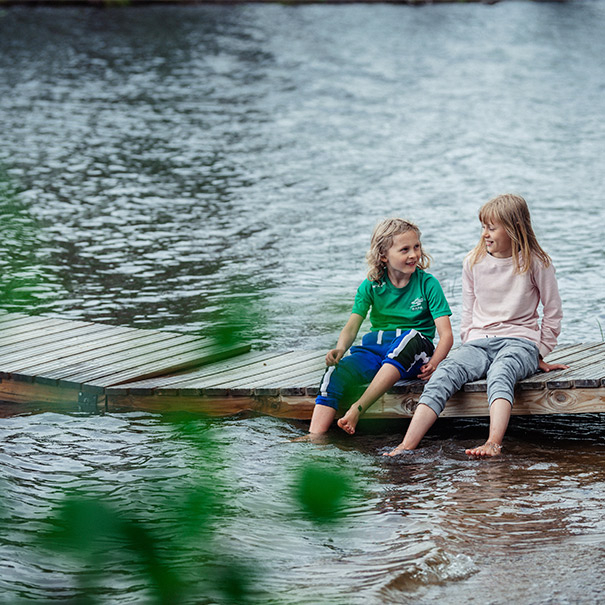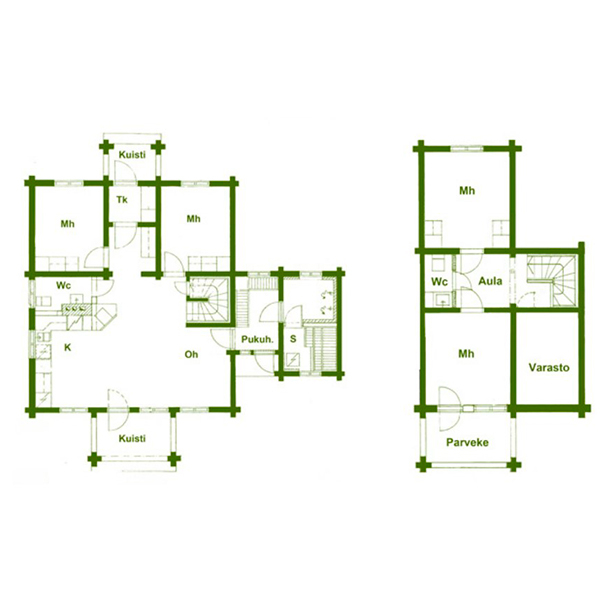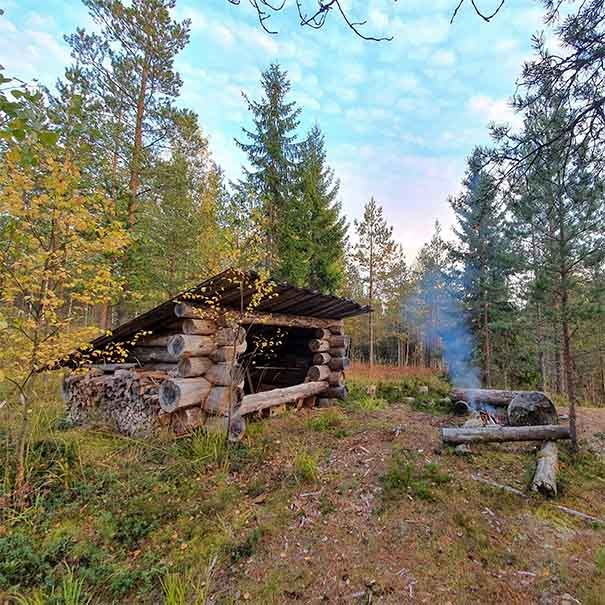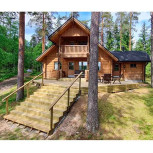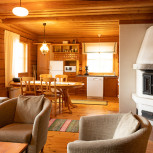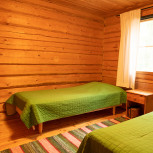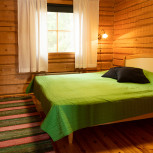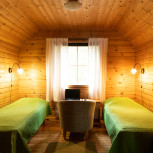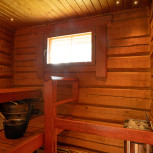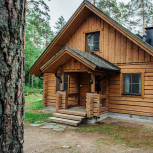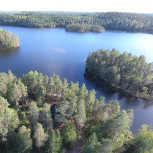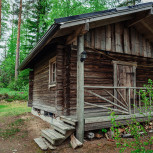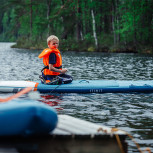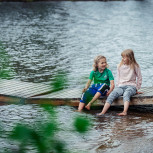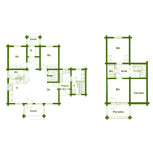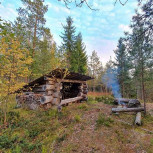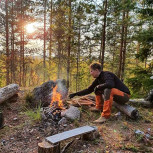 Syväjärvi Holiday Cottage Mikkeli Finland
Lake Syväjärvi, in Suomenniemi, Mikkeli, is a small lake with clear waters that are ideal for smaller visitors to splash around in and perfect for a relaxing trip out in the rowing boat. The Syväjärvi cottage faces directly out towards its own small island, which is a great place for explorers of all ages. A special feature of the ten-person cottage is the atmospheric smoke sauna built from wood reclaimed from an old barn. The owners of the cottage can heat up the sauna for you.
The cottage has four spacious bedrooms over two floors, so it can accommodate one large family or two small families. The cottage is also great for families with children thanks to its shallow beach. There is a drying cupboard, making it easy to dry your outdoor clothes. Thanks to the excellent location, it is easy to arrange birthday parties and meetings at the cottage (1 km from Main Road 13). The living room and kitchen are a single open-plan area. The living room has a large sofa suite so guests can share time together in comfort, while the well-equipped kitchen will please even the most demanding chefs. Syväjärvi is suitable for visitors with allergies – pets cannot be brought to the cottage. For people with restricted mobility, Syväjärvi is Loma-Väkkärä's best cottage, although it does not have completely unobstructed access for wheelchairs. Syväjärvi is protected from motorboats. If you are travelling in a large party and you would like to hire a boat, we recommend our cottages on Lake Saimaa: Lokkero and Nuottakallio.
"We found a generous helping of berries – blueberries and raspberries – on our walk round Kaitajärvi."
Book here!
Colours in the booking calendar
Booked already
Available for check-in date
Available, but not valid for check-in date
Between midsummer week and the end of August, and at new year, the minimum rental period is one week. Changeover day is Saturday.
Please select a dark green date
Facilities and surroundings
Location Suomenniemi, Mikkeli, Syväjärvi, 1 km from Main Road 13 (the Mikkeli-Lappeenranta road)
Can comfortably accommodate 8 + 2 people: 2 bedrooms upstairs, 2 bedrooms downstairs, sofa bed in the living room for 2 people
107 m2 over two floors, large kitchen-living room, 2 toilets, shower, electric sauna
Balcony upstairs and veranda downstairs, both facing the lake
Suitable for visitors with allergies (pets are welcome at Fisherman's hut I and II and Vasikkahaka)
Finnish fireplace, electric heating
Built in 2001 using wood from the cottage's own forest
Large plot: 1 hectare
Separate smoke sauna built from reclaimed wood from an old barn. Ask for more information when you make your booking. Heating the smoke sauna for an additional fee.
Grill hutwitha fireplace
Shallow sandy beach suitable for children
Parking in front of the cottage, use of own garage for two cars
Fixtures and fittings
Free WiFi
Shower, electric sauna in the cottage
Separate smoke sauna 20 m away (subject to extra charge, heated by the owners)
Fridge-freezer, electric stove, electric oven, microwave oven, toaster, coffee machine, composter for organic waste
Drinking water on tap, own well
Flat screen TV, DVD player
Fireplace, firewood
Vacuum cleaner, cleaning equipment, rubbish bags
Washing machine, drying cupboard
Rowing boat, pier, local fishing permits free of charge
Life jackets and cots can be supplied upon request at no extra charge
Bed linen and personal fishing permits can be supplied upon request for an additional fee
Activities
There is a lean-to nearby the Syväjärvi cottage. This can be freely used by visitors for grilling sausages and other activities. Contact us for more information.
The landscapes of Lake Kuolimo can be observed from the handsome viewing tower built by the local village society. The tower is located 5 km from the cottage. There is also a lean-to and fireplace at the tower.
The Kaitajärvi route is a circular gravel track a few kilometres in length, beginning in front of the cottage
Outdoor activities, sauna-going, swimming, rowing, berry-picking and mushroom-picking are the most popular activities in Syväjärvi
If you would like to do any other form of fishing than worm-bait fishing, we recommend our cottages on Lake Saimaa. Alternatively, we can arrange a motorboat or fishing guide on Lake Kuolimo, 5 km away. Contact us for more information.
Distances
Neighbour 150 m
Lean-to 1 km
Illuminated cross-country skiing track 10 km
Small shop 5 km
Restaurant 12 km
Pharmacy 12 km
Downhill ski slope 35 km Mikkeli
Railway station 35 km Mikkeli
Airport 75 km Lappeenranta
Mikkeli 35 km
Lappeenranta 75 km
Helsinki 220 km
Instructions and Conditions
Between midsummer week and the end of August, and at new year, the minimum rental period is one week. Changeover day is Saturday.
Check-in from 4pm, departure by midday. You can clean the cottage yourself or leave the cleaning to us for an additional fee.
Further information about driving here, getting keys and other practical matters is provided along with the booking confirmation.
If anything is unclear, we will be happy to provide more information. Call us on +358 44 234 2511 or email us at myynti@lomavakkara.fi.
Read booking conditions