Loma-Väkkärä's log cabins on the shores of Lake Saimaa, in peaceful locations in Mikkeli, South-East Finland, 2.5 hours from Helsinki. Welcome!
Loma-Väkkärä's cottages are located in South-East Finland, 2.5 hours by road from Helsinki on the shores of Lake Saimaa, Finland's largest lake. The cottages have all modern conveniences and their own beaches, saunas, rowing boats, barbecue shelters and large plots of land. If you do not want to spend your entire holiday in the cottage, the local region offers bountiful opportunities for sports, culture and other pleasant activities from canoeing and nature trails to theatre trips and Finland's largest sandcastle. The nearest towns are Mikkeli and Lappeenranta.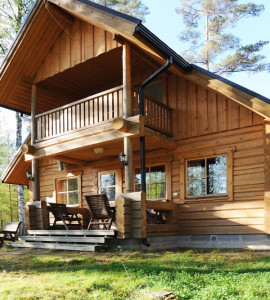 High-quality alternatives for your cottage holiday in Finland
For families, we recommend Syväjärvi (8+2 people) and Vasikkahaka (4+2 people), which are located 35 km from Mikkeli in the direction of Lappeenranta. The top destinations for fishing and lovers of large lakes are in Saimaa: Lokkero (6+2 people) and Nuottakallio (4+4 people) on Liiansaari island in Mikkeli and Fisherman's huts I and II (4+2 people) on the island of Lapinsalo in Savitaipale, 49 km from Lappeenranta.
A reliable Finnish family company established in 2000.
The high-quality log cabins were built using logs from the forests on the plots.
Superb opportunities for fishing, hiking, canoeing and other enjoyable experiences in nature.